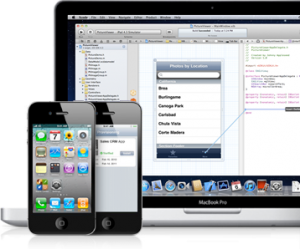 There may be some of you interested in finding a cheap Mac so that you can begin developing iOS apps. Apple requires that you use a Mac to develop iOS apps. For those of you who already have a Mac, that's great news as you can go ahead and download a free copy of xcode from the Mac App store, or direct from the Apple Developer website.
For those who do not have access to a Mac and are looking for a cheap option, there are several options available. First of all, you need to decide what type of Mac you want. The options are a laptop such as the MacBook Air or MacBook Pro. Alternatively you could look at an all-in-one like the iMac or at the Mac Mini. Just make sure that your new/used Mac has an Intel based processor and preferably is capable of running OS X Mountain Lion.
Depending on what works best for you, you can look at the following options to find a cheaper model:
Cheap Mac for iOS Development Ideas
– In No Particular Order
1. eBay – You can often find a good deal on MacBook Pros on auction websites. Just do your research first to make sure the seller is legit and that all looks to be good.
2. Apple Refurbished Units – Apple sells refurbished models on its website.
3. Student Discounts – Apple offers money off if you are a student. If you are in that position then let the sales person at Apple know this and they'll let you know how much you can save.
4. Choose a Mac Mini – If you already have a compatible monitor and keyboard a Mac Mini could be a cheap alternative. These can also be found on eBay as well as the Apple site as refurbished units.
Shop Around and Get What You Need
When shopping around for a cheaper option, make sure you find the best deal. Also, make sure that you will be able to easily develop on your chosen device. For some, a laptop might be best so that you have the portability and ability to code whilst out and about. For me, I opted for a 27 inch iMac as I like the large screen as it lets me code on one half while research on the other half of the screen. Choose what works best for you.